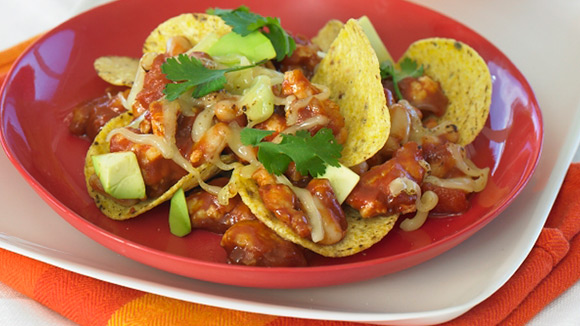 Chilli Con Pollo with Taco Chips
A fresh take on a Mexican classic, this chilli taco recipe is served on crunchy corn chips. Like our other Mexican recipes, this dish will make you say "Ole!"
Recipe serves

4

Preparation time

20 min

Cooking time

25 min
Ingredients
1 packet Continental® Chilli Con Carne Recipe Base
2 teaspoons oil
500g chicken mince
1 x 400g can chopped tomatoes
1 x 400g can cannelloni beans, rinsed and drained
½ cup (125ml) water
300g packet unseasoned corn chips (taco chips)
¾ cup grated tasty cheese
1 large ripe avocado, diced
Squeeze of lemon juice
½ teaspoon finely chopped fresh chilli, optional
Freshly ground white pepper
¾ cup sour cream
Jalapeño peppers, sliced – optional
¼ cup fresh coriander leaves
Directions
Prepare the Recipe Base following packet instructions using the oil, chicken mince instead of beef, tomatoes, beans and water.
Preheat grill. Place the corn chips on an ovenproof serving dish and place under the lowest part of the grill until warmed through. Spoon over the Chilli Con Pollo, sprinkle over grated cheese and place back under the grill until golden brown and the cheese melted.
In a small bowl, gently mix the avocado, lemon juice, chilli and a little pepper.
Serve the Chilli Con Pollo with the avocado mixture, sour cream and Jalapeño peppers. Sprinkle over coriander before serving.
Note: Use beef mince in this chilli taco recipe if you prefer
RECIPES