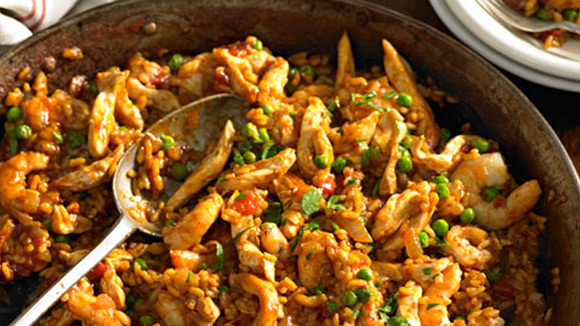 Prawn, Chicken and Pea Paella
This no-grill bbq beef recipe tastes like real bbq. A hearty tossed combo of scotch fillet and warm roast veggies will have even the most committed carnivore coming back for more. Add it to your list of beef recipes and see which one gets more requests.
Recipe serves

4 to 6

Preparation time

20 min

Cooking time

40 min
Ingredients
2 Tbsp Flora® Original spread
2 Tbsp olive oil
400g chicken breast fillets, thinly sliced
300g green prawns, peeled, deveined
1 medium brown onion, finely chopped
2 cloves garlic, crushed
2 tsp smoked paprika
400g can diced tomatoes
1 Continental Stock Pot Chicken
2½ cups water
½ tsp saffron threads
1 cup medium grain rice (such as arborio)
½ cup fresh or frozen peas
¹⁄³ cup flat-leaf parsley leaves, roughly chopped, to serve
2 lemons, cut into wedges
Directions
Heat spread and oil in a large, heavy-based pan over a medium-high heat.
Add chicken and cook until browned. Transfer to a plate and set aside.
Add prawns to pan and cook, turning, for 2 minutes or until they change colour. Transfer to a plate and set aside.
Add onion to pan and cook for 3 minutes or until softened. Add garlic and paprika and cook, stirring, for 1 minute. Add tomato, Stock Pot Chicken, water and saffron, stir until combined, then bring to the boil. Stir in rice, then reduce heat to low and simmer for 15-20 minutes or until rice is tender.
Return chicken to pan with peas and stir to combine. Cook for 2 minutes or until heated through, then add prawns and stir to coat in the mixture.
Sprinkle with parsley and serve with lemon wedges.
Tip: You can serve this chicken and prawn recipe with tapas or eat on its own.