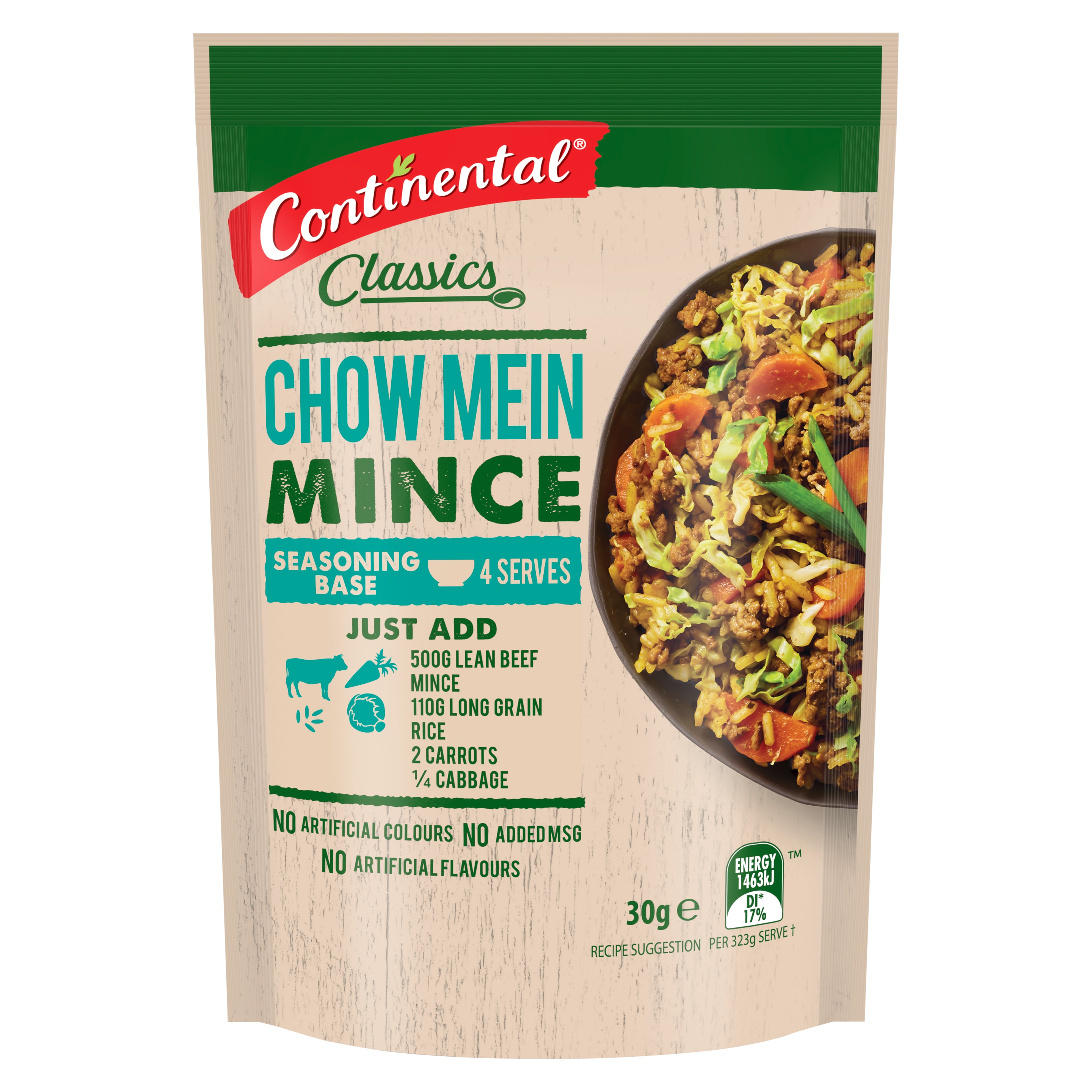 Chow Mein Mince
Delicious made easy. Continental's Recipe Bases are an easy and delicious way to make your favourite dish at home. 
Soy sauce powder (contains wheat), maltodextrin, onion powder, natural flavours, sugar, spices, yeast extract, salt, garlic extract, sunflower oil, mineral salt (potassium chloride), food acid (citric). Contains naturally occurring glutamates. Any Allergies? Contains soybean and wheat. May contain milk, peanuts, tree nuts, egg, sesame, fish, crustacea and lupin. 
| | Amount Per Portion |
| --- | --- |
| Calories | 1470kJ/351cal |
| Fat | 11.5 g |
| Saturated Fat | 4.0 g |
| Sodium | 425 mg |
| Sugars | 5.8 g |
| Protein | 29.7 g |
How to use
Just add... 500g lean minced beef 110g long grain rice 2 carrots ¼ cabbage Preparation time: 10 minutes Cooking time: 35 minutes Simply... 1. Heat 2 teaspoons oil in a large frying pan or wok and brown 500g lean minced beef. 2. Add Recipe Base, 1½ cups (375mL) water, ½ cup long grain rice, 2 sliced carrots and 4 cups shredded cabbage; stir to combine. 3. Cover and simmer for 30 minutes or until rice is tender, stirring occasionally. Serve sprinkled with crispy noodles. Here's an idea... Try this dish made with minced chicken or pork instead of beef.
Contains

Allergens:Contains soybean and wheat.