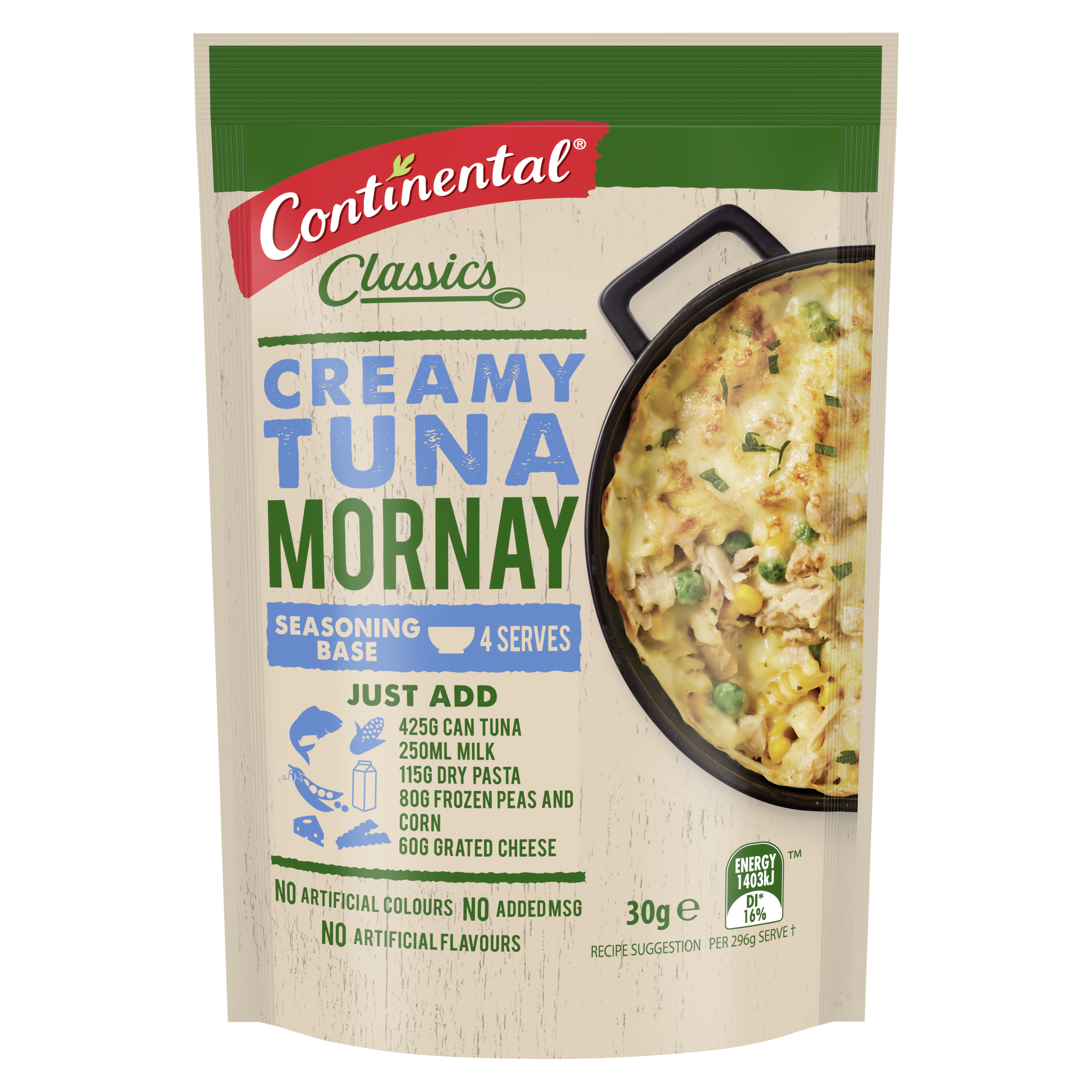 Creamy Tuna Mornay
Delicious made easy. Continental's Recipe Bases are an easy and delicious way to make your favourite dish at home. 
Corn starch, wheat flour, cheese powder, natural flavours (contain milk), salt, yeast extract, sunflower oil, onion powder, maltodextrin, parsley, natural colour (carotene), turmeric. Contains naturally occurring glutamates. Any Allergies?: Contains wheat and milk. May contain soybeans, peanuts, tree nuts, egg, sesame, fish, crustacea and lupin. 
| | Amount Per Portion |
| --- | --- |
| Calories | 1410kJ/337cal |
| Fat | 10.5g |
| Saturated Fat | 5.9g |
| Sugars | 4.8g |
| Protein | 27.9g |
How to use
Preparation time: 5 minutes Cooking time: 25 minutes Just Add: 425g can tuna 250mL milk 115g spiral pasta 80g corn kernels 60g grated cheese Simply... 1. Combine Recipe Base, 2 cups (500mL) water, 1 cup (250mL) milk and 1 1/2 cups (115g) spiral pasta in a medium saucepan and stir until boiling. Simmer for 12 minutes, stirring regularly. 2. Stir through 1/2 cup corn kernels and 1 x 425g can tuna in springwater, drained; and reheat. 3. Spoon tuna mornay into an ovenproof dish. Top with 1/2 cup grated cheese and brown under a grill. Serve with a tossed green salad. Here's an idea... For a crunchier topping, mix 1/2 cup fresh breadcrumbs with the cheese and brown under the grill.
Contains

Allergens:Contains wheat and milk.