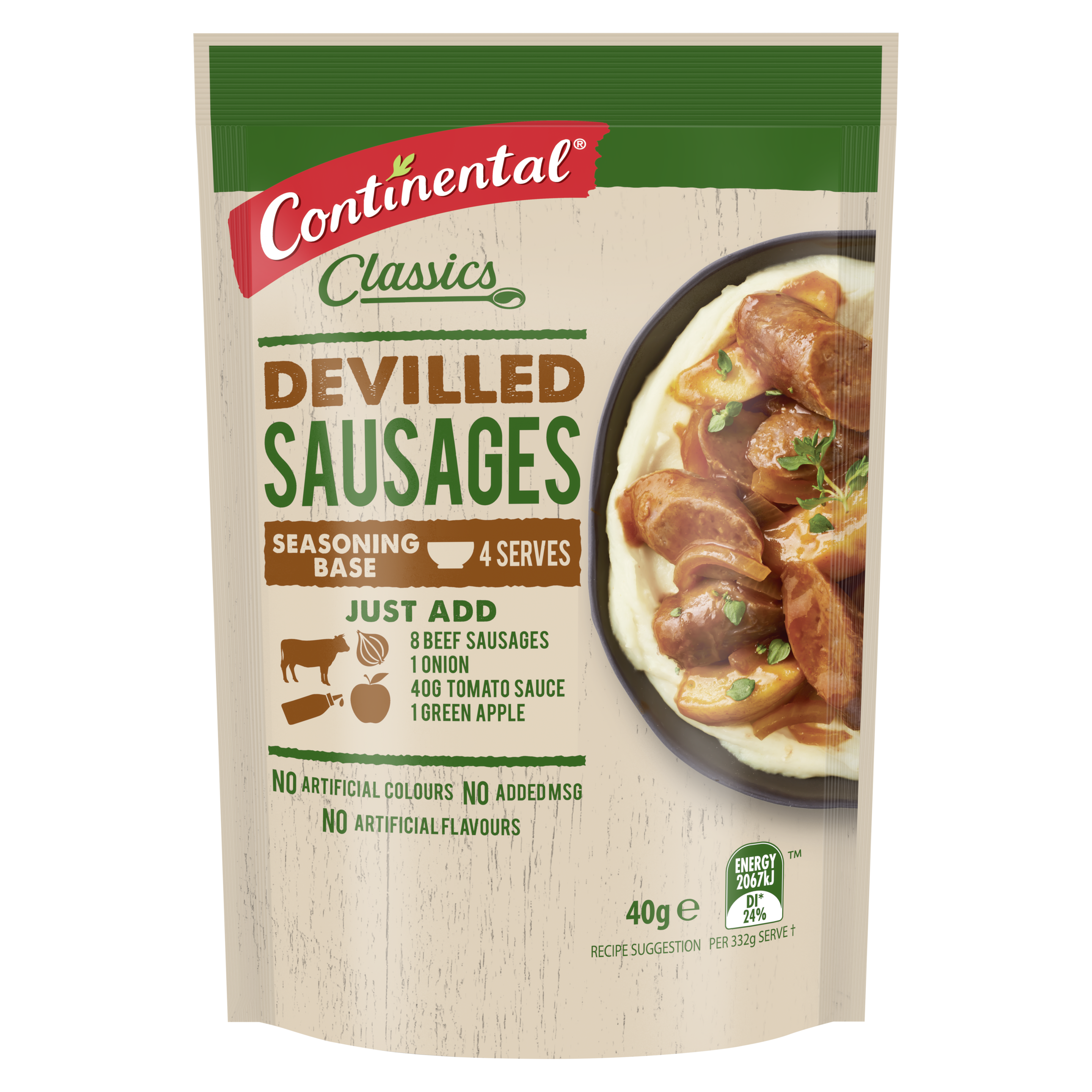 Devilled Sausage
Delicious made easy. Continental's Recipe Bases are an easy and delicious way to make your favourite dish at home. 
Corn starch, sugar, vegetable powders (tomato, onion), natural flavours (contain wheat and soybean), spices, burnt sugar, mineral salt (potassium chloride), salt, yeast extract, sunflower oil, garlic extract, maltodextrin. Contains naturally occurring glutamates. Any Allergies? Contains wheat and soybeans. May contain milk, peanuts, tree nuts, egg, sesame, fish, crustacea and lupin. 
| | Amount Per Portion |
| --- | --- |
| Calories | 2230kJ/533cal |
| Fat | 38.4g |
| Saturated Fat | 17.3g |
| Sugars | 12.4g |
| Protein | 23.4g |
How to use
Preparation time: 10 minutes Cooking time: 25 minutes Just Add: 8 beef sausages 1 onion tomato sauce 1 large green apple Simply... 1. Heat 2 teaspoons oil in a large frying pan and brown 8 beef sausages; remove from pan. Add 1 sliced onion to pan and cook until softened. 2. Combine Recipe Base, 1½ cups (375mL) water and 2 tablespoons (40g) tomato sauce; add to pan with 1 large, peeled, cored & sliced green apple, stir until boiling. 3. Return sausages to pan; cover and simmer for 20 minutes or until sausages are cooked, stirring occasionally. Serve with a pumpkin and potato mash and zucchini. Here's an idea... Add ¼ cup sultanas with the apple. CHO type of serving suggested: mashed potato Amount of CHO (g/portion): 250g
Contains

Allergens:Contains wheat and soybeans.