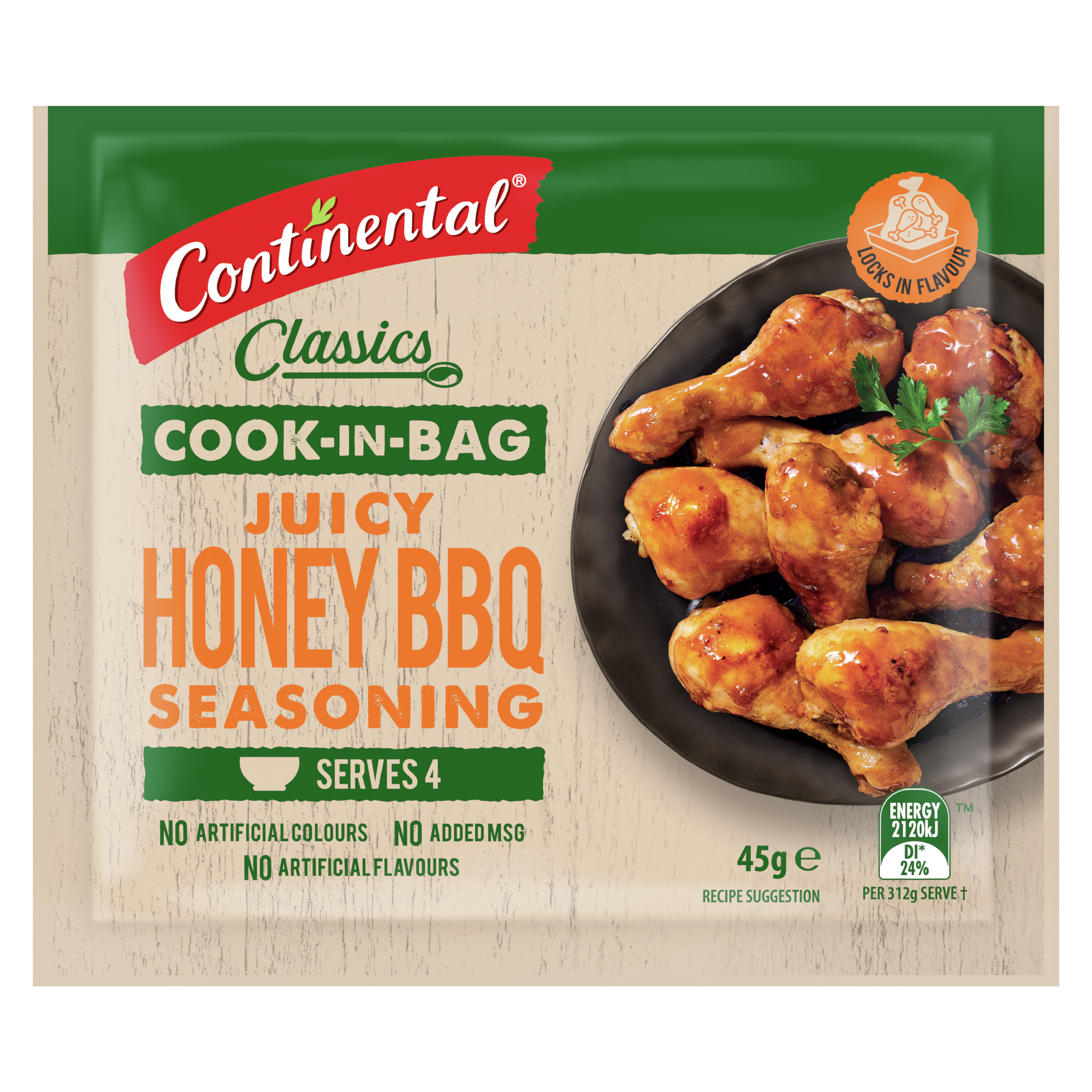 Honey BBQ
With the roasting bag and all of the herbs and spices included, our Cook-in-Bags infuse the flavour to keep your meat succulent, for a delicious roast meal in 3 simple steps. 
Maltodextrin, corn starch, sugar, natural flavours (contain wheat and milk), salt, garlic, mustard flour, vegetable oil, vegetable gum (xanthan), spices (ginger, paprika, chilli, cayenne pepper), burnt sugar, food acid (citric), natural colours (turmeric, carotene, carmine). 
| | Amount Per Portion |
| --- | --- |
| Calories | 2430kJ/581cal |
| Fat | 35 g |
| Saturated Fat | 10.6 g |
| Sodium | 485 mg |
| Sugars | 9.2g |
| Protein | 55.9 g |
How to use
Step 1. MAKE IT: Preheat oven to 180'C. Place chicken drumsticks into roasting bag. Step 2. SHAKE IT: Add Recipe Base and close bag using included tie. Gently rotate bag to coat evenly. Step 3. BAKE IT: Place on oven tray, in a single layer. Pierce top of bag 4-5 times with a skewer to vent. Cook on centre rack of oven for 40-45 minutes or until cooked through. Remove from oven, rest in bag for 10 minutes before serving.
Contains

Allergens:Contains wheat products. Made on same equipment that also processes products containing milk, soybean, peanuts, sesame, egg, fish and crustacea.