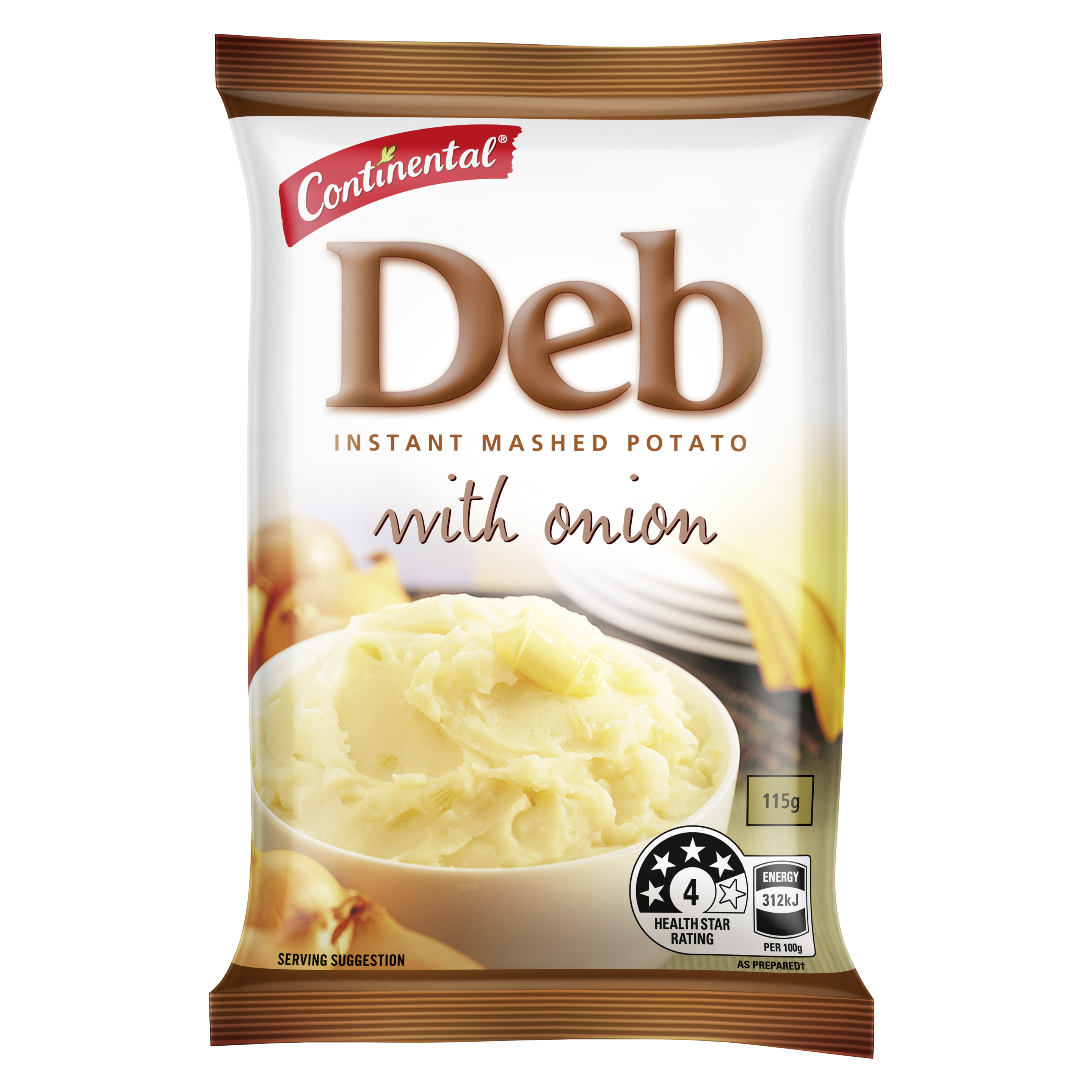 Deb Instant Mashed Potato and Onion
Continental's Instant Mashed Potato lets you make deliciously smooth and creamy mashed potato without the fuss. 
Ingredients when reconstituted: potato flake (79%)[contains emulsifier (471), perservative (sodium bisulphite)], onion (6%) (pieces, powder), sunflower oil, salt, whey powder, skim milk powder, flavours (contain milk), cream powder, spice extracts. 
| | Amount Per Portion |
| --- | --- |
| Calories | 628kJ/150cal |
| Fat | 2.8 g |
| Saturated Fat | 0.5 g |
| Sodium | 480 mg |
| Sugars | 1.8g |
| Protein | 3.6 g |
How to use
Pour boiling water into a bowl and stir in Deb Instant Mashed Potato (see quantities below). Allow to stand for 30 seconds; stir again. Serves DEB Boiling Water Aprox. amount mashed potato 1 1/2 cup 2/3 cup (170mL) 190g 3 Whole packet 2 cups (500mL) 560g For fimer mashed potato, use less water. For softer mashed potato, use more water. For creamier mashed potato, substitute hot milk for up to half of the water and add 1-2 tablespoons margarine or butter. Freshly ground pepper may also be added if desired.
Contains

Allergens:Contains sulphites and milk. May contain wheat, soybean, tree nuts, egg, peanut, sesame, fish, lupin and crustacea.